We recommend bank transfer as a method of payment. 
Bank transfer information: 

We have a bank account in Poland (for tax reasons) in Euro currency. You can make a fast and cheap payment by choosing a SEPA Transfer in Euros. Currently all EU Banks have the possibility of conducting a SEPA money transfer. The approximate cost is between 1 and 3 euros. The realization time is 1 to 3 working days.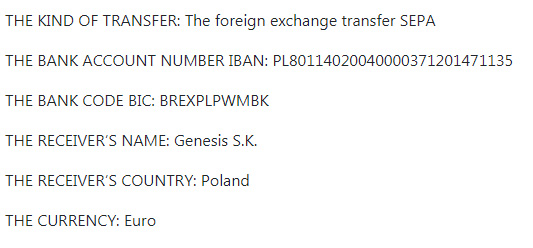 THE BANK NAME: mBank S.A. FORMERLY BRE BANK S.A. (RETAIL BANKING) LODZ 
THE BANK ADDRESS: al. Pilsudskiego 3, 90-368 Lodz, Poland 
SORT CODE (NSC): 11402004 
2. Send money in an envelope by post. 
It is possible to send money in an envelope by post. 
If you choose this payment method you do it at your OWN RISK!! 
Genesis S.K. is not responsible for money lost in the mail. 
In order to make it work pay attention to the following rules: 
ONLY EURO, POUNDS, OR DOLLARS 
Payment in hard currency we accept only euros, pounds or US dollars. ONLY these three currencies. Please remember this when placing your order. 
Please do not send coins, they are easy to detect and there for are easily stolen. 
If the amount at the checkout is not an even one please send extra money and we will compensate you with extra freebies. For example, if the amount in the basket is 22,50; please send 25 and the extra 2,50; will be made up to you in the form of a free seed. 
DON'T FORGET THE ORDER NUMBER 
Please put your order number in the envelope.